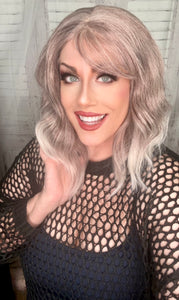 Custom Arlee with full lace front AND wispy bangs what could be better. Beach waves full HD Swiss lace front. Arlee is a specialty color blended custom wig. Unique colors swirled with Taupe, Ash, with subtle deep Berry lowlights giving her a hue of color. She is Tipped light platinum.  Arlee is unique & perfect. Private label at 12 inches. STUNNING!!!! Japanese Futura fiber.
 Most of our wigs are high quality Japanese fibers and silk fibers & Human Blends.
Specialty wigs are the highest quality of fiber. You will find them in their own category💕
Wig hair like bangs/length can be cut by your stylist to suit you needs. Most are heat resistant up to 340 degrees. The styles are truly gorgeous and should not need heat.  ADD a wig grip, wig shine or detangle.
 Keep in mind that Wigs do look different on everyone.
Colors might slightly vary from the picture due to lighting and photography.  Most wigs have adjustable straps & combs.
All wig sales are FINAL! Our wigs are carefully inspected prior to shipment. 
Wigs are not returnable due to Hygienic reasons"