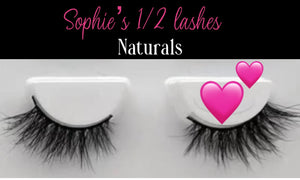 Our very popular Mink lash.  This wispy set of false lashes is ideal for watery eyes. The 1/2 lash gives a natural finish. Application starts away from the inner eye. Adds a little length & volume for the most natural look. Incredibly lightweight for a comfortable wear.  The mink hairs achieve the look of a naturally fuller lash that will leave your friends in awe! 
Trim you lash to fit your eye!
How to Put on Fake Eyelashes in 4 Easy Steps
Prep Your Natural Lashes. After completing your eyeshadow and eyeliner application of choice, curl your lashes and apply mascara. ...
Apply Glue to the Eyelash. ...
Wait for the Glue to Dry Slightly. ...
Adhere the Strip to Your Lash Line and Press It Into Place. ...
LASHES CANNOT BE RETURNED DUE TO HYGIENIC REASONS!